| | |
| --- | --- |
| | |

Name
C Johnson
Email Address
private
AIM
YIM
ICQ
Gender
Age
Location
Personal Quote

| | |
| --- | --- |
| Privileges | Normal user |
| Rank | |
| Points | 9 |
| Number of Posts | 9 |
| Number of Reviews | 0 |
| Date Joined | Sep 10, 2010 |
| Date Last Access | Dec 23, 2011 8:12 pm |
Re: Ariens Branded Sno-Thro Cab 72408000
#1 Dec 22, 2010 8:08 am
I can raise the cab a bit more but it will not fit through the garage door. It is not a problem...just something I had to get used to.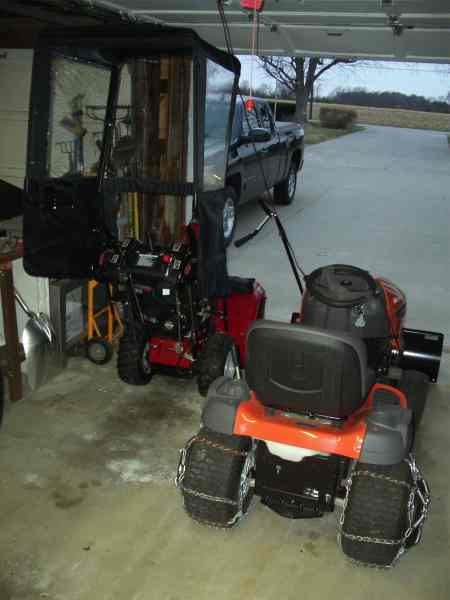 Re: Ariens Branded Sno-Thro Cab 72408000
#2 Dec 21, 2010 8:07 am
I do not have the Ariens cab but I have a large blower with a cab.
For me, I face west and have open farm fields surrounding me. It gets very windy out there!
The wind has never been a problem for me but I have a 30" blower and the counterweight is about 14 pounds. I often let it sit out in the wind while I use my tractor blade to clean things up.
The only thing I needed to be careful about is that since I am tall, my head will hit the top if I am leaning and need to turn the blower.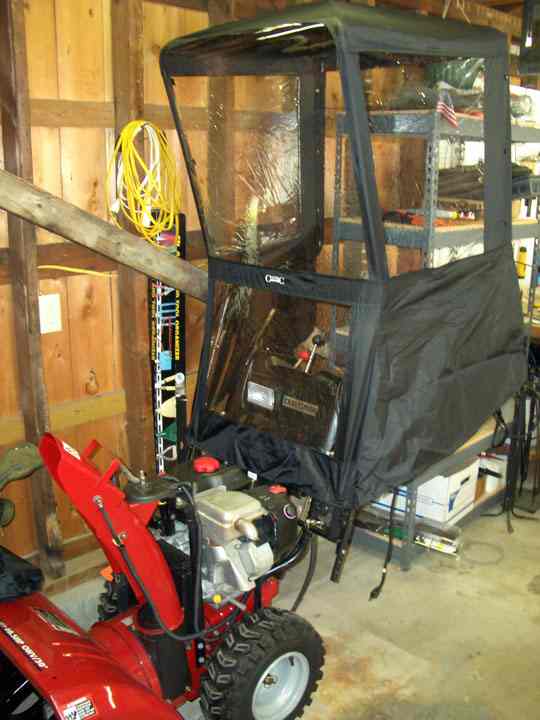 Re: Looking to buy a leaf blower, Echo, or Husqvarna?
#3 Nov 2, 2010 4:05 pm
I picked up the rain gutter kit from Echo. It was $47 after tax. It took about five minutes to put together.

It works great. I have two outbuildings and a first floor kitchen with gutters. It probably took ten minutes, maybe fifteen max to blow them all out. I probably will try and see what I can do about making it reach the second story gutters. Much better than a pressure washer this time of year!
Re: Looking to buy a leaf blower, Echo, or Husqvarna?
#4 Nov 1, 2010 10:00 am
I have the PB413H unit. This is my third year with it and it has been flawless. I have done the tune-up items and it starts on the first pull. I use it for leaves and after I cut the grass. For $44, I am seriously looking at getting the gutter cleaning kit although I have some second story gutters (I have a pressure washer wand for those but hate doing it in the fall when the water and leaves that fall on you are a little cold). The Echo should do the job for a good while for you.
Re: How Does This Auger Work?
#5 Oct 11, 2010 9:32 pm
I talked to the local Husqvarna dealer about that just last week and he stated is was to move more snow into the impeller. He stated from his experience, it does work well compared to the previous open augers.