This picture shows the original part mounted on the bottom of the engne near the chute.  It's the small brass box in the middle of the pic.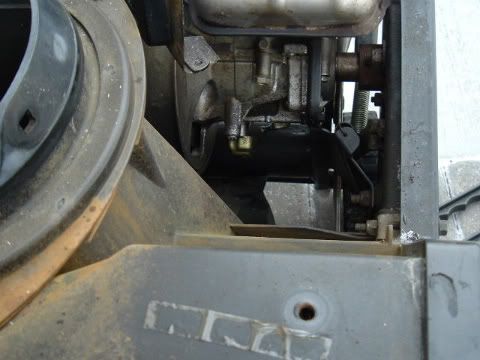 This is the Mega Fire II module.  I used a twist tie to hang it from the wires up by the key switch plug.  After installing the control panel I verified that the wires didn't interfere with the pull cord etc.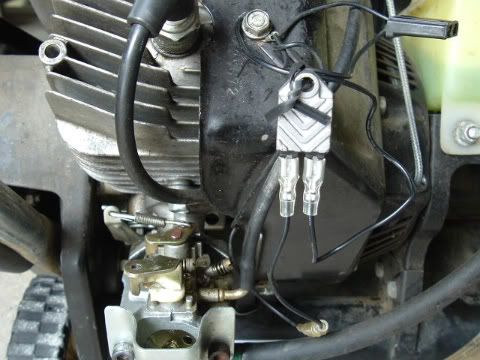 The yellow arrow points to the ground wire for the new module clamped under the same bolt used to ground the key switch.  You can see how easy it would be to replace the module if needed.  I considered getting a ring type wire connector and I still might.  That's what the key switch ground wire uses.  I could have installed the new module in the factory location, but would have needed 1/4" longer screws and decided against that for the reasons I mentioned in previous posts.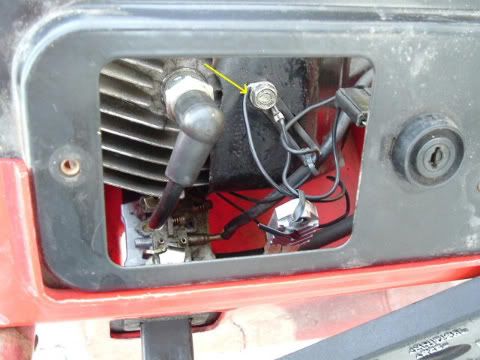 Here's a link for a short vid of the machine running.
http://s852.photobucket.com/albums/ab90/miller87a/Toro%20CCR2000/?action=view&current=DSCF0168.flv
So that's about it.  I'll let you know if anything goes wrong.  I don't know the durability of this module, but since I mounted it for easy replacement, it will probably never fail, haha.
If anyone can explain how this part of the ignition system works, I'd like to hear it.  Thanks.