| | |
| --- | --- |
| | |

Name
JT Connolly
Email Address
private
AIM
YIM
ICQ
Gender
Age
Location
Personal Quote

| | |
| --- | --- |
| Privileges | Normal user |
| Rank | |
| Points | 16 |
| Number of Posts | 16 |
| Number of Reviews | 0 |
| Date Joined | Aug 7, 2011 |
| Date Last Access | Feb 4, 2019 1:52 pm |
Re: Toro 824 Powershift
#1 Feb 1, 2019 12:35 pm
I just have 2 tabs open, here and where ever I can find the pics on the net.  I used to use photobucket until they tried to steal everyones pics and charge you (after they deleted all your internet pics previously posted).  Some sites you can attach your own pictures from your computers picture files. 

Usually you can find schematics or "here's what I'm talking about" type pics on a search.  Right click on the pic you want and select "copy image location"  the mouse keeps it in itself.  Go back to your text area of your post and left click the 3rd icon from the right (it's supposed to be a landscape scene of a mountain, but it looks like the back of an envelope to me).  That will have a pop up url box, right click inside the blank and select "paste", it enters the posting the area.  Those old Toro's are very over engineered heavy weight workhorses for sure.

Re: Toro 824 Powershift
#2 Jan 30, 2019 9:33 am
Now that I see the parts drawing wondering if you wrap the vertical rod that goes up to the control handle (#16) with a short flat rubber bungee cord to the left handle bar.  Maybe down near the "u-joint" ?  (just above #33) Might give you enough friction to stop it from wandering around on it's own.  Down and dirty quick fix might be to bend the tab at the bottom of the handlebar near the U-joint gear to impart some friction.  Or get an eyebolt with appropriate size grommet, couple washers and nylok nuts and drill a mounting hole through the handlebar. Depending on condition,  looks like you'd need to knock out the roll pin to get the vertical rod out which may be too much for an old fitting to endure.

Re: Toro 824 Powershift
#3 Jan 26, 2019 11:35 am
If your crank rod is supported by an eyebolt near the handles you can get a pack of rubber grommet inserts in different sizes from the big box stores.  They have a groove along the outer diameter to stay wedged in the hole of the eyebolt.  I've used those to replace the ones on Murray style blowers that the owners have trashed or lost.
Re: Toro 824 Powershift
#4 Jan 25, 2019 5:13 pm
Slpit some fuel line and place it around the chute crank rod where it goes through an eyelet/eyebolt. Zip tie the split fuel hose at either end to hold it on the rod, that'll give it some friction.  If it's like my Ariens blowers you can loosen and reposition the chute crank worm gear closer to the ring gear on the bottom of the chute.  I don't have any Toro 2 stage machines, but my Ariens look like this bracket, loosen the bottom nut and move it.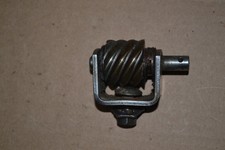 Re: Ariens 910019 help with what I broke. Stuck auger and won't move.
#5 Dec 2, 2018 8:39 pm
I'd be surprised if you broke the auger gears, those old style Ariens blowers will snap the belt long before the gears get messed up.  I have seen very few break a tooth off the coupler too, but that is rare as well.
Have you taken the belt cover off?  If both the drive and auger won't engage it sounds like the belt broke.  Should be Ariens 07204700