I added the numbers to Snowmann's comments to help simplify my comments:
1)  I saw a new 2013-2014 Deluxe 28 with the new AX engine while at Home Depot today.  It sure looks different.   I wonder if this new LCT/Lauson/CPC engine line is going to be a really good thing when compared to Briggs, Honda, Kawasaki, and Subaru, for example?  I'm hoping for something really good here.  
2)  So this new Auto-Turn is going to make turning even easier, that is, no muscling to turn the blower?  Would it be as easy to turn as the old-style differential that Ariens used to have back in the early 2000s and the 1990s?  My son has a 1993 Ariens ST824 with its differential that is absolutely effortless to turn.  Of course, that old system wasn't perfect since you could end up with one wheel slipping while one wheel keeps turning if you hit a slick spot with that one wheel, for example, but I'm only trying to say how easy it is to turn.  I hope this new approach will duplicate that ease.
I'd like to hear some comments about the new engine and new Auto-Turn when some guys out there have experience with them.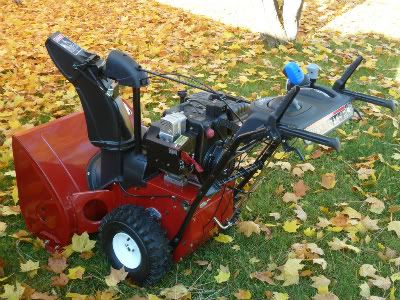 El Toro! 1028 LXE - Tecumseh 358cc 10hp   Let it snow! Let it snow! Let it snow!