There have been bits of news floating around about the revival of the Tecumseh Snow King engine.  It involves Ariens, Stens (parts company from Indiana owned by Ariens), LCT (Liquid Combustion Technologies, a South Carolina company), and CPC (Certified Parts Corporation, a Janesville, Wisconsin, company).
There exists an interesting and perhaps largely unknown "relationship" between Ariens, Stens, LCT, and CPC.  For those involved with this forum, it should be very interesting regarding snow blowers in particular, though this information is obviously of more importance than just snow blowers.  With the current discussion/debate about the LCT engines on the Ariens Sno-Tek and Compact Series of blowers, and any other uses of the LCT engines, hopefully this information will be both very enlightening and perhaps able to dispel bad information and rumors, etc.  Here goes:
1)  The below link shows how Ariens acquired Stens in October 1995.  Stens appears to be run as a separate division, instead of simply being swallowed up by Ariens.
http://www.stens.com/history.html
2)  The below link shows the history of Ariens, including its purchases of Gravely in the early 1980s and Stens in 1995.
http://www.stens.com/history3.html
3)  In 2008, Stens is chosen by LCT as its exclusive distributor of parts, and also to be LCT's dealer service center provider for North America.  LCT is not owned by Stens.  It is a separate company headquartered in South Carolina.
http://www.stens.com/history2.html?workstrip=3&StensID=495b189d0f474d65ca17cd8bdcc52c18
4)  Certified Parts Corporation of Janesville, Wisconsin, in late 2010 teamed with the South Carolina company, LCT, to jointly produce air-cooled engines for outdoor power equipment.         
The agreement with Liquid Combustion Technology will give CPC the engineering, manufacturing, and sales capabilities to reintroduce the Snow King line of snow blower engines, and other engines formerly made by Tecumseh Power.
The engines will be sold under the Snow King, Lauson, and LCT brands, and will be serviced by CPC and the existing Tecumseh Power dealer/distributor network.  CPC bought certain assets of Tecumseh power in 2009.

http://host.madison.com/wsj/business/article_e030ff66-baa6-11df-a8cd-001cc4c002e0.html
5)  As to the Chinese LCT engines, here are LCT company links that explains a lot.  Just follow all the links. They have all kinds of engines, winter, summer, commercial, and generator.
http://www.lctusa.com/feat_208cc.cfm
LCT is definitely an American company, but the Chinese connection is, I assume, for production and assembly.  The key would be the specifications LCT would insist upon.  If they're smart, they will want high quality.
It's going to be pretty fun to watch where this all goes for both the LCT engines and the news about the new Tecumseh-branded engines.  CPC bought certain assets of Tecumseh (don't know what), and now we'll see what happens next.  Will Ariens return to Tecumseh engines because of the relationship between Ariens/Stens and LCT/CPC?  How about Toro, Husqvarna, MTD, etc.?  You won't see Tecumseh on the Simplicity, John Deere, and Snapper brands because snow blowers under those brand names are made by the Briggs & Stratton Power Products Group. 

Stay tuned.
This message was modified Oct 28, 2011 by coasteray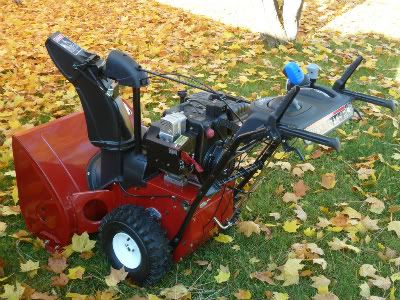 El Toro! 1028 LXE - Tecumseh 358cc 10hp   Let it snow! Let it snow! Let it snow!