| | |
| --- | --- |
| | |

Name
don jagoditsh
Email Address
private
AIM
YIM
ICQ
Gender
Male
Age
Location
menasha,wisconsin
Personal Quote
i've gone to find myself,if i'm here when you arrive,keep me here until i get back.

| | |
| --- | --- |
| Privileges | Normal user |
| Rank | |
| Points | 142 |
| Number of Posts | 142 |
| Number of Reviews | 0 |
| Date Joined | Apr 25, 2007 |
| Date Last Access | Jun 14, 2009 5:05 pm |
Re: riding mower(craftsman-briggs) will not start regularly
#1 Apr 22, 2009 1:20 pm
Not an expert,but  i think your starter is going out on you.
Re: mower won't start
#2 Apr 10, 2009 9:05 pm
Is that where the fuel line connects to the carb?If so it is pressure fitted and does not come off.I would be willing to bet you need to clean your carb out,and if you did,recheck your float and inlet needle seat.Try blowing some air threw the fuel inlet.I hope this helps.When you say you cleaned your carb,did you get a rebuild kit?
Re: JohnDeere broke in half
#3 Mar 15, 2009 2:59 pm
She is runnin again.When i split it apart,there where 2 pieces that the weld broke.Re welded and bam back in action.Hope to try it out next season.I'm sick of snow.Thanks for your help.Don
Re: JohnDeere broke in half
#4 Mar 14, 2009 11:04 am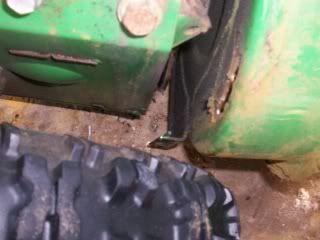 Here are a few pictures of where it came apart.
Re: JD TRS26 blower chute ring
#5 Mar 13, 2009 7:30 pm
Did you try the John Deere dealer?It's Restener and schnel off of American Drive.